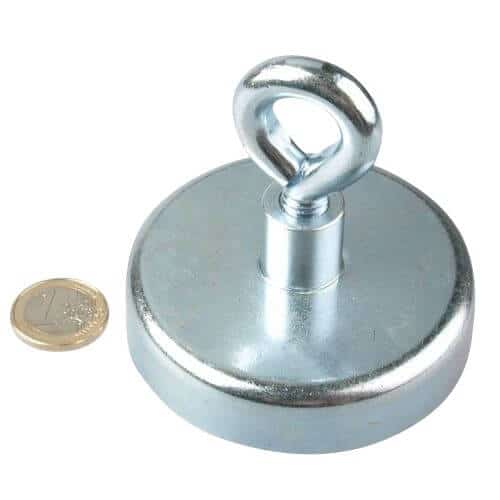 Choosing the best type of Neodymium magnet can make or break your magnet fishing experience.
Knowing the unique characteristics of each one can help you decide which one will be best for your situation.
There are many different Neodymium magnets on the market which can make it confusing to know exactly which one you should be using.
The best type of magnet for Magnet Fishing is the rare earth magnet or Neodymium Magnet.
Top 10 Best Magnets for Magnet Fishing
10. BIGTEDDY – N52 Heavy Duty River Lake Salvage Fishing Recovery Magnet
This inexpensive magnet is designed for a multitude of uses beyond fishing. For example, you can use it to hang your keys near your home's door if you tend to lose track of them. However, you can also sweep the floor of your home or garage to find screws, nuts, and bolts.
With a capacity of 286 pounds, this magnet is the weakest included here. However, it is also the least expensive, which makes its lack of power understandable. And while it is at the bottom of this list, it still has many benefits that make it worth a look.
Pros
Compact size of just over 2.36 inches
Includes nylon paracord for easier searching
Very light compared to similar magnets
Cons
Material quality isn't as high as other magnets
Lower lifting power may turn off many fishers
9. Wukong Double-Sided Fishing Magnet
Like many other magnets on this list, this Wukong model is capable of 330 pounds of lifting force. It is explicitly designed for rivers, though you can tweak it for use in lakes and even ponds. The double-sided design makes catching metal on multiple surfaces possible.
As a result, your magnetic surface area is effectively doubled, which is the primary advantage of this magnet model. And as it is coated in a rust-resistant layer, you shouldn't have any issues trying to upgrade and maintain this high-quality magnet.
Pros
Attracts iron, ferrous metal, and nickel
Focused magnetic bottom can capture small and large items with ease
Removable eyebolt for easier upgrade
Cons
Not suitable for use with children
Could wipe out your mobile phone or bank cards
8. Super Strong Fishing Magnet
Neodymium magnets come in many different weight capacities, including this reasonably powerful little model. With 330 pounds of lifting strength, you can pick up most items at the bottom of your average lake, pond, or river. Just as importantly, the material of this magnet is powerfully bonded to prevent damage.
This bonding method includes a countersunk design that makes the magnet almost impossible to pull out of the shell. And the the eyebolt is designed to be as strong as possible to prevent the kind of breaking that is common in similarly-priced fishing magnet models.
Pros
Powerful triple layer of stainless steel
Includes 100 feet of rope
Eyebolt connects directly to steel to avoid cracks
Cons
Some users complained of weaker lifting capacities
Reported weakness in the cap shell
7. Wukong Super Powerful Neodymium Fishing Magnet
Those who don't want to spend a lot of money on their fishing magnets should consider this budget-priced model. Available for under $20, it still provides the user with over 300 pounds of lifting force. As a result, this model is a great budget choice for first-time magnet users.
However, even those who already own a handful of stronger and more expensive magnets may utilize this model as a backup choice for tough lifting situations. Even better, this magnet can be tweaked for use in your garage or work area to gather a multitude of items.
Pros
Great budget options for those with limited funds
Lifting power is great for the price paid
Useful in many situations
Cons
Corrosion noted by many reviewers when used in salt water
Pulling force limited depending on rope strength
6. Mutuactor Fishing Magnets
Though this magnet is not the most powerful on our list – 350 pounds of pulling force – it contains many of the same benefits as the strongest that we could find. For example, it utilizes a durable anti-corrosion design to minimize damage to its surface in a variety of different ways.
As a result, your magnetism loss is typically quite low compared to other magnets included on this list. The manufacturer calculates a loss of no more than two percent every 10 years, which means your magnet should be powerful for your whole life.
Pros
Black resin produces an attractive magnet
Eyebolt is surprisingly strong
Durable in very warm weather conditions
Cons
Line is fairly thin compared to other magnet models
Minimal extra items included in the package
5. 888-Pound Fishing Magnet
The cliché "good things come in small packages" definitely applies to this 3.54-inch magnet. This small size somehow packs 888-pounds of pulling force, making this one of the most unexpectedly powerful magnets on this list.
The rope on this magnet is designed to minimize snags or tangles while you troll your local lake or nearby ocean for treasures. Make sure to hold it at least several inches or so above the surface of the lake to minimize tangle risk even further.
Pros
Weight capacity is very high for such a small weight
Rarely gets tangled up in rocks or weeds
Compact size makes it easy to store in a fishing vest
Cons
Come complained of rope strength
Center screw needs heavy tightening
4. Brute Box 1,200 lb Magnet Fishing Bundle
If you want a bundle that contains the most powerful magnet and every other item you'll need for your fishing magnet, this is a good purchasing decision. This large magnet – almost five-inches in diameter – is capable of 1,200-1,300 pounds of pulling force.
Even better, this magnet comes with the rope, carabiner, and threadlocker that you'll need to prepare and use your fishing magnet. The carabiner is tested at 5,600 pounds, which makes this a great choice for those who have a little bit of money to spend.
Pros
The most powerful magnet on this list
Includes o-ring for manual-pressure adjustment
Fairly light for its pulling power capacity
Cons
Expensive compared to other magnets
Force decreases depending heavily on magnet placement
3. Super Strong Neodymium Fishing Magnets
DIYMAG produces a broad range of products, including a multitude of neodymium magnets. These tools are designed for a variety of purposes, including industrial, scientific, and engineering career paths. They utilize high-quality neodymium-iron-boron mixtures to create a powerful pull.
Under ideal conditions, this magnet is capable of pulling up to 330 pounds of force. That makes this a potent magnet, particularly for the price. However, a few drawbacks keep this from being even higher on our list.
Pros
Protected cap holds magnetism for life
Compatible with multiple items
Inexpensive compare to many models
Cons
Potentially dangerous for those with pacemakers
2. Brute Magnetics Round Neodymium Fishing Magnet
This magnet by Brute Magnetics just about made the top of this list due to its high-powered pull. It is capable of lifting 880 pounds, which makes it one of the most powerful magnets on this list. And since it is built out of high-quality neodymium, the magnet should retain most of this strength.
Just as importantly, the included rope is reasonably strong and capable of withstanding some weighty objects. Even better, the nickel-copper-nickel material makes this one of the strongest permanent magnets on the market. However, a few disadvantages stopped us from naming this the best choice.
Pros
One of the highest-capacity magnets on the market
Works with one-half inch steel items
Countersunk to avoid problems
Cons
Fairly expensive compared to top magnet
Heavier and harder to use
1. 575 LBS Pulling Force, Brute Magnetics Round Neodymium Magnet
The best fishing magnet on the market is this potent model, which is capable of 575 pounds of pulling force. While it might not have the highest pulling power of the magnets on this list, it provides other benefits that make it the best for your consideration.
These advantages consist of an easy-to-use eyebolt that works with various hooks and screws, a coated steel cup that protects the magnet from chipping, and a relatively lightweight feel that makes this model more comfortable to use for a broad range of potential boaters.
Pros
Weights under two pounds for easier use
Thread locker is the strongest on the market
Cons
Bonding agent usefulness varies depending on application material
Rope may be a bit too weak for some uses
What is the best Magnet Strength for Magnet Fishing
The best type of magnet for Magnet Fishing is the rare earth magnet or Neodymium Magnet.
Truth is you want the strongest and largest surface area magnet you can find at the budget you have. Here's a selection from the ones on Amazon so you can see the difference, clicking these will take you to Amazon where you can see even more and get a feel for what is out there (recommended).