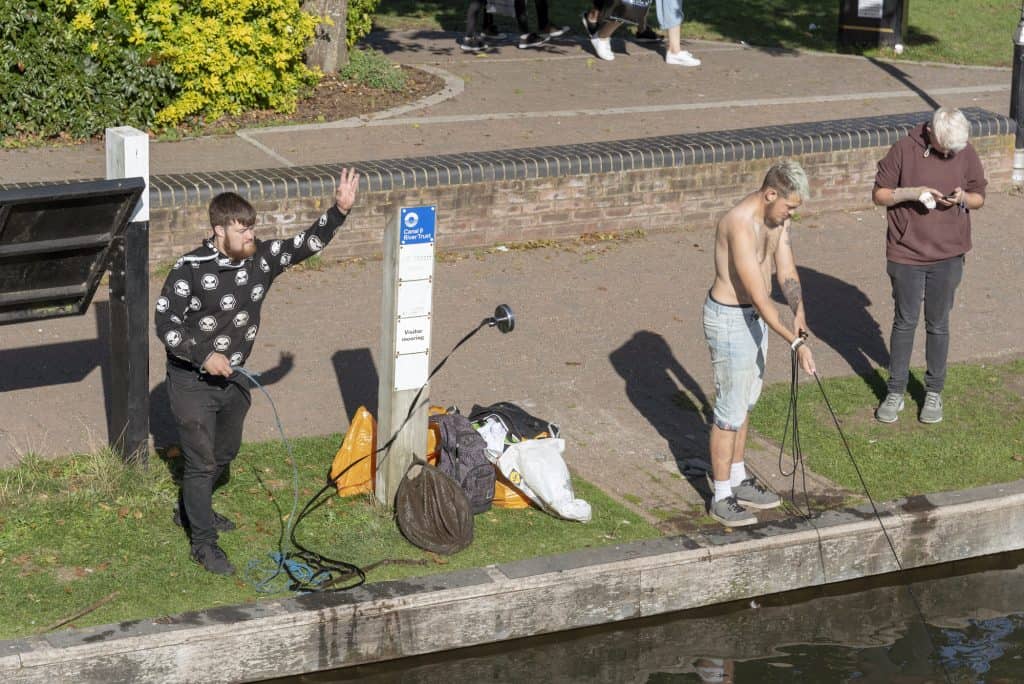 Magnet fishing makes use of a strong magnet to recover magnetic objects from water.
The magnet has a loop or eye attached to it.
A rope is tied to the loop or eye in order to recover the magnet and the objects that attach themselves to it. It is not suitable for items that are not attracted to a magnet such as gold.
Not only is it very useful to recover lost items but is also rapidly becoming a favorite pastime/hobby for hundreds of people worldwide.
Magnets come in different weights and sizes and are measured in diameter (mm) and pull force (Llbs or Kg).
Equipment Needed For Magnet Fishing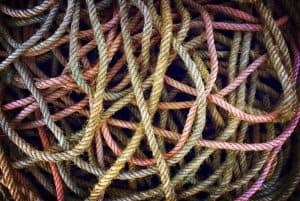 In short, you will need:
A really good strong magnet
Gloves
Somewhere to put place your finds such as a bucket
A way to clean your hands e.g. hand sanitizer
(See our recommended Magnet Fishing Kit below to get started right away)
The Magnet
Your magnet needs an eyebolt for threading your rope through. We suggest you invest in a Neodymium Magnet. You can find our Top 10 recommended magnets here.
The Rope
A Paracord or Nylon rope is highly recommended. We've reviewed some ropes here.
Gloves
Gloves will not only protect your hands from the much and dirt involved with dragging items from a lake but they will also stop you from getting any injuries from the sharp metallic objects that you will be pulling out.
Somewhere To Keep Your Magnet Fishing Finds
Goes without saying, keep your stuff in one place so you can take it away with you otherwise you will be lugging stuff home in your pockets.
A Way to Keep Your Hands Clean
You don't want the dirt from the lake covering your hands in germs, be sensible and take hand sanitizer and/or a cloth to wipe your hands upon.
Threadlock (optional)
The Threadlock is optional but recommended by the more experienced Magnet Fishers as a way of preventing the rope being lost. It provides a way to secure the rope in the eyebolt without you having to keep a tight grip on it all of the time.
Knife
This is an optional item that you can use to cut your rope free if it get's tangled onto anything in the lake (and it does happen!) otherwise you'll end up losing the rope and/or the magnet and they're not necessarily a cheap item!
You can find a more detailed article on our recommended magnet fishing accessories here.
Recommended Magnet Fishing Kits
Preview
Product
Fishing Magnet with Rope x 66ft, Wukong 290LB(132KG) Pulling Force Super Strong Neodymium Magnet with Heavy Duty Rope & Carabiner for Magnet Fishing and Retrieving in River - 60mm Diameter
Magnet Fishing Kit with 500lbs Pull Force Neodymium Magnet and Eyelet
Brute Box 880 lb Magnet Fishing Bundle (3.54" Magnet + Rope + Carabiner + Threadlocker)
Brute Box 1,200+ lb The Original Magnet Fishing Bundle (4.72" Magnet + Rope + Carabiner + Threadlocker)
Preview
Product
Fishing Magnet with Rope x 66ft, Wukong 290LB(132KG) Pulling Force Super Strong Neodymium Magnet with Heavy Duty Rope & Carabiner for Magnet Fishing and Retrieving in River - 60mm Diameter
Preview
Product
Magnet Fishing Kit with 500lbs Pull Force Neodymium Magnet and Eyelet
Preview
Product
Brute Box 880 lb Magnet Fishing Bundle (3.54" Magnet + Rope + Carabiner + Threadlocker)
Preview
Product
Brute Box 1,200+ lb The Original Magnet Fishing Bundle (4.72" Magnet + Rope + Carabiner + Threadlocker)
How to Magnet Fish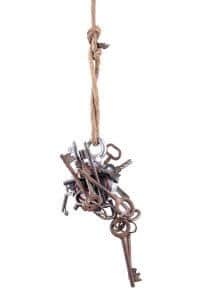 We have a dedicated guide for how to magnet fish but it doesn't hurt to also include a quick overview here too.
The techniques for Magnet Fishing are incredibly simple, in fact, there's hardly any skill required at.
But for those people who are curious about how it all works at this point, you may have no idea how to do it!
So here's a couple of tried and tested methods:
The Throw-In & Pull Back Technique
As it sounds. With your magnet tied securely to your rope, you simply throw the line into the body of water and slowly pull the line back in again.
Don't pull it too quickly as the magnet could snag onto something solid and get lodged, you also face the risk of losing your treasure if the magnet passes too quickly over the items in the water.
The Throw-In, Walk & Pull Back Technique
Again, this is how it sounds. You launch your line into the body of water and instead of simply pulling it back in you walk along the river bank or canal bank to give the magnet more area to cover.
You, therefore, increase the chances of attracting more finds.
Man Finds a Motorcycle Magnet Fishing!
Magnet Fishing Rules & Laws
Is Magnet Fishing Legal?
People often ask this question and so I decided to look into it.
If you are magnet fishing on public property then you should be okay, there are no recorded incidents from people breaking the law (that I can find).
Of course, it's a different story if you are on private property and as with any activity that involves trespassing onto private land you should get the land owners permission first.
This is often easier said than done and there are plenty of bodies of water that you can visit without upsetting the owner.
In some instances, there is lake or canal that make encroach upon land owned by somebody and this is known as "Riparian rights" where essentially the division of land lies somewhere in the middle of the body of water. Wikipedia has a good entry for this which explains it well.
What is the Best Magnet for Magnet Fishing?
We've got a guide for the top 10 best magnets for Magnet Fishing but in short, you want to get yourself a Neodymium magnet (also known as a "rare earth magnet".
The neodymium magnet listed below is a best selling magnet and popular choice among magnet fishermen.   It is also listed #1 in our top 10 guide.
575 LBS Pulling Force, Brute Magnetics Round Neodymium Magnet with Countersunk Hole and Eyebolt, 2.95" Diameter
Extremely strong Neodymium Magnet with 575 lbs pulling force on contact with 1/2" thick steel
Magnet is neodymium iron boron (NbFeB) rare earth with Nickel-Copper-Nickel coated steel cup. Countersunk hole for easy use with eyebolt (included), screws, hooks, and other types of fasteners.
Coated steel cup provides protection for the magnet and helps to prevent chipping or cracking.
Package contains one magnet with diameter of 2.95" and thickness of .70" Includes M10 eyebolt and 6ml bottle of threadlocker.
100% guarantee - We stand behind our quality craftsmanship 100%! If you're not completely satisfied with your purchase, don't worry, we always have your back. Simply contact us and together we'll resolve any concern to your full satisfaction.
Where Can I Go Magnet Fishing?
You can go anywhere that you have permission. If you are private land then you should ask the permission of the landowner first and if you are in a public place then it's possible you may have to answer some questions from passers-by or even the Police if they are curious as to what you are doing.
Anywhere where there are bodies of water such as swamps, creeks, lakes, rivers, canals and dams will be a sufficient place for magnet fishing.
Even in often less traveled parts of the countryside can be interesting places for magnet fishing.  You may find less objects in these waters, but the findings may be more interesting since they most likely have been sitting for quite some time.
Look for historical places and landmarks when magnet fishing
Cities and towns with great history are more likely to yield the most interesting finds.  The sky is the limit when you can imagine the things that you would find in rich historical areas such as war battlegrounds, abandoned buildings, and the gold rush era.
Perhaps you may even find something that you can contribute to a historical museum.
Almost all places have bodies of water such as lakes, rivers, swamps, ponds, creeks, dams, canals, and sewers. You will definitely find metal in urban areas, and in places where people frequently visit, walk along, and is accessible by foot
What you should consider are 2 things:
How old is the body of water (i.e. lake, canal or river) does it have a historical past?
You can find some great stuff if you are fishing in an old lake or historically significant river or canal.
How busy is the area or how busy has it been in the past?
Consider how many people have used or are using the body of water and what type of items you are likely to find in there.
Magnet fishing is a fantastically addictive hobby that people worldwide enjoy on a regular basis. It's growing at an amazing rate too with more people discovering it each and every day.
Essentially Magnet Fishing involves throwing a magnet tied to a rope into a body of water but it's the not knowing what's coming out next which is the addictive part.
You could find all sorts, mostly other people's junk but occasionally you can find a stash of coins, bullets or weapons, cast aside bikes and more.
It's all "treasure", stuff that you find and can keep and you never know what you're going to get. Just check out some of the news stories above to see the wide diversity of stuff you can find.
Also, check out the resources and other fantastic places on the internet where people all over the world over talk about their latest find or equipment. It's a simple hobby but it's a really good one.
Also, we're cleaning up the lakes and canals of the world as we go!
It doesn't matter where you live or how old you are, all you need to get going is a magnet and rope or line to attach it to and somewhere suitable such as a lake or canal to throw it into.
The things that people get back are amazing and it's the thrill of not knowing what you are going to recover next with your magnet which makes it such an addictive hobby.
Many of your finds will most likely end of as trophies, but there will also be good uses for the other ones.  Many people sell their finds on craigslist or keep them for themselves.
If you find a lot of tools with rust, you can clean them up and add them to your tool collection.
I really do hope the information and things we gather together on this site will be of use to others. I always think it a good idea to collate information as you make new discoveries and I really do enjoy helping other people, so if you are reading this and find the site useful, funny and/or interesting then it will make my day.
I'm happy to show news stories from the USA and also around the world. The same goes for resources and videos too.